Throughout its life, an instrument will undergo normal wear and tear. Thus, an instrument will require routine maintenance and repairs. Over time, components become misaligned, seams open due to weather changes, and instances of accidental damage occur. (It happens to everyone!) Below is a quick summary of basic repair services Lane & Edwards offers. Our staff will help you determine what (if any) interventions may be needed to return an instrument to top form.
Bow Rehair and Repair
We are Louisville's first choice in bow rehairing and restoration services, and we cater to the entire strings family of bows, including baroque style and antique bows. Need Black hair instead of white? Want a particular color? Feeling more Salt and Pepper these days? Our pleasure. Other available bow services:
Tip Repair/Replacement
Grips of All Types: Rubber, Sterling, Leather, Lizard, whale bone, faux whale bone
Bow Re-Cambering
Pernambuco Splice for broken Stick/Head
Pearl Eye or Frog (nut)/Slide Replacement
Brass Eyelet Replacement
Screw/Button Repair, Replacement
Michel Samson collector, historian and world renowned violinist
"Mark recently rehaired a rare violin bow for me and I was quite impressed by the skill, professionalism, and care he demonstrated with such a delicate task. It's wonderful to have an experienced local source for bow and instrument maintenance. Both Matt and Mark have a serious interest in important historic luthiers and bow makers and I enjoy stopping by their shop to share information. Wishing Lane & Edwards Violins continued success and a bright future as they provide an important resource for the community and its musicians."
Minor Adjustments and Repairs
Minor adjustments might not seem like a big deal, but the sum of small deviations can mean real hindrances to sound production. Bringing setup into alignment, and adhering to proper measurements can have a positive effect on your instrument's voice. To the discerning ear, a completed adjustment of any of the kind below can improve function, playability, tone, or all three.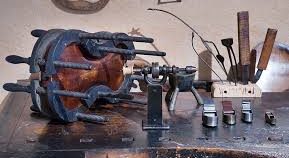 Top Nut Repair/Replacement (Ebony, Bone, and custom options available)
Saddle Repair/Replacement ( Ebony, Bone, and Custom options available)
Soundpost Adjustments/Setting/Replacement (AAA quality aged spruce)
Endbutton/Endpin Repair/Replacement (Ebony, Rosewood, Boxwood, and more)
Peg Repair/Replacement (Standard wood varieties and Wittner pegs Available)
Fine Tuner Replacement (Wittner style tailpieces, Hill tuners, Harp tailpieces, and more)
Bridge Adjustment or replacement
Bridge Replacement
When an instrument needs a new bridge, we are ready with choice pieces of maple from Aubert, Despiau, and others. Aubert bridge levels consist of Student, #7, and DeLuxe. Similarly, Despiau differentiates its quality level by a number of stars ranging from one to three. There are many factors that affect how your bridge works with your instrument, including the curvature, weight, density, height, shape, and much more. A bridge crafted with care can aid the transmission of string vibrations, and encourage a responsive sound.
Intensive Repairs
All instruments will occasionally require more involved interventions, whether your violin is a family heirloom, valuable personal instrument, or a museum-quality masterpiece. Each repair is received with care, executed in patient effort, and leaves with our proud guarantee. We provide the following services for instruments that require more demanding restoration efforts:
Neck Replacement
Neck Reset
Grafted Scroll Repairs
Fingerboard Regluing/Planing/Replacement
Top Removal/regluing
Wood replacement
Crack Repair with Cleats
Seam Closures
Broken Scroll Reattachment
Varnish repair/protection: All types, spot finishing to total varnish restoration.