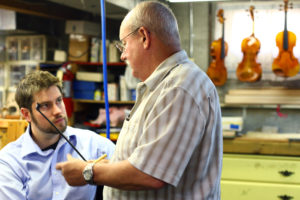 Lane & Edwards Violins in Louisville, KY is a full-service luthier shop which specializes in the sale, rental, repair, restoration, and appraisal of fine stringed instruments.
Mark Edwards founded Mark Edwards Violins in 1976, and has over 40 years experience in the restoration, sales, and service of all violin family instruments and bows. Edwards had established a career as a luthier, bow repairman, and appraiser in Louisville when he fitted Matt Lane for his first violin in the late 80s. By 2005, Lane was working alongside Mark in his shop. Mark is proud to say that the good word of mouth generated by his shop is the foundation of the success that allows Lane & Edwards to flourish.
Matt Lane is now the owner and operator of Lane & Edwards Violins. He began his career as a luthier during a Centre College apprenticeship with Mark Edwards. A respected violinist in the Louisville community, Matt offers service to professional musicians, enthusiasts, and students alike. Matt has traveled the world studying the work of world-famous violin makers, continuing to build on his knowledge of violin family instruments. Matt and Mark are skilled appraisers, and pride themselves on their ability to fairly and accurately evaluate an instrument's value based on both its origin and maker, as well as the quality of sound it produces.
Many people in the Greater Louisville area rely on Matt and Mark for expert advice on the value of their instruments, as well as ways to maximize their playing potential with meticulous and detailed set-up work. At Lane & Edwards, you will find unrivaled expertise on the strings and parts that can help you achieve your ideal sound. If you are looking to purchase an instrument, you will be paired with the one that best suits your needs, budget, and sound preferences. We are so confident in our work here at Lane & Edwards that we accept 100% trade-in on any instrument you purchase from our store.