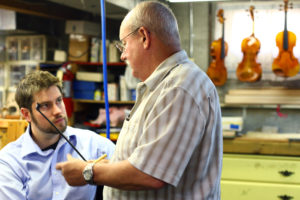 Lane & Edwards Violins in Louisville, KY is a full-service luthier shop specializing in the sale, rental, repair, restoration, and appraisal of fine stringed instruments.
Mark Edwards founded Mark Edwards Violins in 1976, and has over 45 years experience in the restoration, sales, and service of all violin family instruments and bows. Edwards had an established career as a luthier, bow repairman, and appraiser in Louisville when he fitted Matt Lane for his first violin in the late 80s. By 2005, Lane was working alongside Mark in his shop. The ongoing effectiveness of this partnership continues to accrue a loyal clientele, positive word-of-mouth, and to bolster the foundation of success Lane & Edwards has built.
Matt Lane is now the owner and operator of Lane & Edwards Violins, as well as a respected violinist in the Louisville community. Matt offers service to professional musicians, enthusiasts, and students alike, and has traveled the world studying the work of famous violin makers. As skilled appraisers, Matt and Mark pride themselves on their ability to fairly and accurately evaluate an instrument's attributes, inherent craftmanship, and available provenance.
Lane and Edwards provides services to musicians and collectors in Kentucky, countrywide, and around the globe. When opinions are sought for instrument values, or ways to maximize sound potential with meticulous and detailed set-up work, you will find hard-earned and helpful expertise at hand. The same expertise is lent to every aspect, from the first equity-building rental to the purchases of the pinnacle professional. The guaranteed 100% trade-in is a measure of confidence in the examples kept in stock, and speaks to the quality that Lane & Edwards customers enjoy.